S1E152 - Essential Apple Podcast 152: Looking forward to Luminar 4 with Alex Tsepko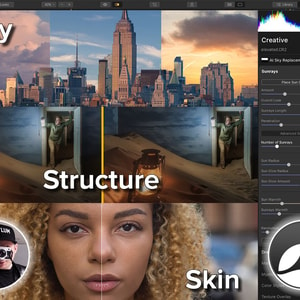 Recorded 20th October 2019
This week Apple said iOS 13 reached 50% adoption, Apple TV appeared on Roku, iPhoto finally reached the end of the road. Google told us why the Pixel 4 isn't 5G, Adobe say Photoshop for iPad will appear this year, and Pebble watches are still living on due to the "Rebble Alliance". Meanwhile the US finally gave up on 8" floppy disks... But more important than all that stuff Simon is joined by Alex Tsepko, CEO of Skylum, to talk about what's in store for Luminar 4 due for release November 18th.
GIVEAWAYS & OFFERS
Why not come and join the Slack community? You can now just click on this Slackroom Link to sign up and join in the chatter!
Slacker @MacJim has started up a family friendly Flickr group for listeners to share photos because the Darkroom channel in the Slack has become so popular - if you're interested head over to to the Essential Apple Flickr and request an invitation.
---
On this week's show:
ALEX TSEPKO
APPLE
TECHNOLOGY
SECURITY & PRIVACY*
WORTH A CHIRP / ESSENTIAL TIPS
Nemo's Hardware Store (56:37)
---
Essential Apple Recommended Services:
Essential Apple is not affiliated with or paid to promote any of these services... We recommend services that we use ourselves and feel are either unique or outstanding in their field, or in some cases are just the best value for money in our opinion.
---
Social Media and Slack
You can follow us on:
Support The Essential Apple Podcast by donating to their Tip Jar: https://tips.pinecast.com/jar/essential-apple-show
This podcast is powered by Pinecast.